Job Vacancies 2017 at Pahang State Foundation
Job Vacancies 2017 at 

Pahang State Foundation
The launching of the Pahang State Foundation was graced on September 29, 1983 by His Majesty Sultan Haji Ahmad Shah Ibni Almarhum Sultan Abu Bakar Riayatuddin Al-Muadzam Shah, who was the King then. The administrative operation began in the same year on the 19th floor of Teruntum Complex, Kuantan.
Job Vacancies 2017 at Pahang State Foundation

Kolej Yayasan Pahang (Milikan Penuh Yayasan Pahang)invites qualified Malaysians to fill the positions as below: –
1. Pensyarah (Sepenuh Masa dan Sambilan)
Pelbagai bidang. Antaranya:
– Sumber Manusia
– Psikologi
– Sains Komputer
– Pendidikan Awal Kanak-kanak
– Agro Bioteknologi
– Pendidikan Islam
– Undang-undang
– Pengurusan Strategik
dll.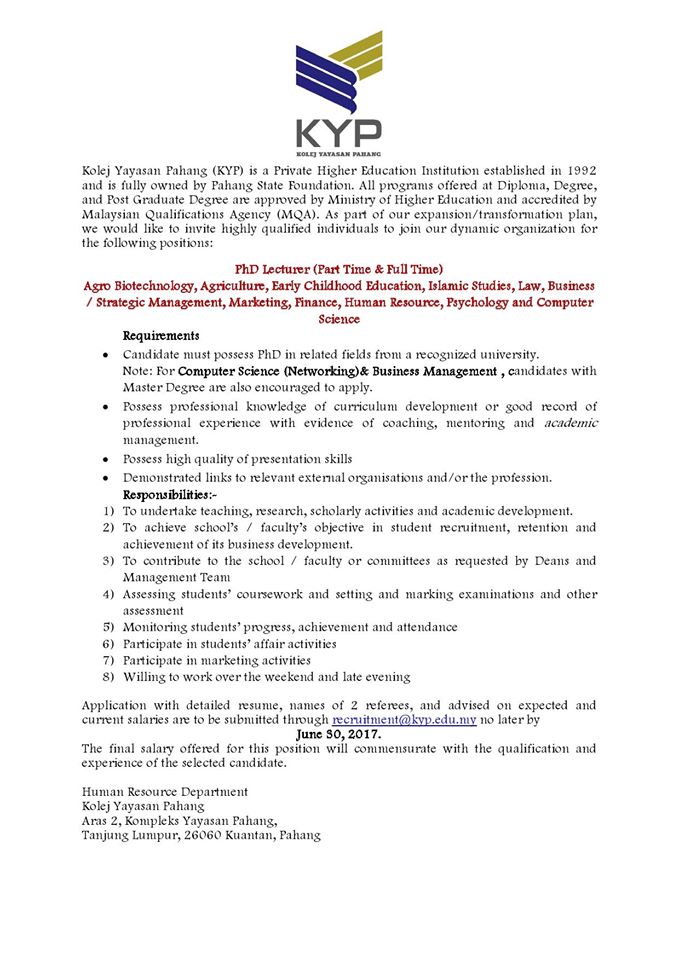 For more information on these vacancies and how to apply, please visit the link below.
Click above – Advertising Job Vacancies – Closing date 30 Jun 2017
Like /Follow for more updates – https://www.facebook.com/InfoJawatanKerajaan
Job Vacancies 2017 at Pahang State Foundation